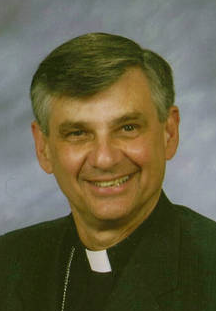 Welcome to the website of First Christian Church of Freedom!
It's been my pleasure to serve as pastor of FCC since Jan. of 2012.  I was preceded by two excellent pastors who served about 10 years each — Pastors Cedar and Bossdorf, respectively.  Pastor George Davidson, who was here for 36 years, preceded them.  So, there you have the history of pastorates over the last half-century.  However, that tells only a part of the story.
First Christian is really a 'community church'.  Besides being the only church in Freedom, its concern reaches far beyond its members.  It's also truly ecumenical, being composed of many denominations — Congregational, Baptist, Roman Catholic, Lutheran, Presbyterian, Episcopalian, Methodist, Christian Scientist, and probably some I don't know about.  We are not associated with any larger church body or association, but we do follow the ancient creeds of the Christian Church.  We are very aware of events happening in the world, and don't hesitate to support any group that provides aid to the needy.  We've supported the Heifer Project, a mission in South America, OCC (Ossipee Concerned Citizens), and contributed to various disaster funds as they happen.  We operate a 'food pantry' every Saturday that serves local area needs and a discretionary fund is available for local emergencies.
Since we believe that we're all sinners, that we all fall short of God's expectations, and that we all have needs and challenges, we welcome every one of God's creatures.  We are here to offer worship, counsel, support, and hope to everyone in the Freedom area.  It doesn't matter if you're here for a weekend of vacation, recently moved to the area, or a born and bred Freedomite — we welcome you!  You may just be looking for a place to meditate, or a place to meet your neighbors — we welcome you!  You may be looking for a place for meaningful volunteer work — helping to repair a bike, quilting, or singing in the choir — we welcome you!
The bottom line is — we are here for you!  Come and join us each Sunday at 10 a.m.
May God bless you!
Pastor Larry