Welcome to First Christian Church of Freedom… We're glad you're here.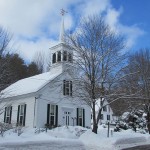 Services are on the First Christian Church of Freedom, Facebook page.  Like us on Facebook to receive the weekly service.
In keeping with best practices during COVID 19 we will continue to offer worship online for the time being.
Our service will be on Facebook and the text of the sermon will be mailed to those without computer access and e-mailed to everyone else. We hope that those not able to share internet capabilities, will be able to receive our thoughts through the mail, telephone, or visits.  I will be at church on Mondays  from 10:-2:00 or by appointment. I am available by phone or email most of the time.   Please reach out to us if you have a concern or need so we can share it with the community or at least include it in our prayers. 
 We hope you'll make every effort to stay healthy and safe.  The usual admonitions of wearing a mask, washing hands and maintaining the 6 foot distance with others are the obvious, but also watching out for each other and being good neighbors are crucial.   We have a vulnerable population, but no one knows the strength of our faith in dealing with the obstacles that this world places before us.  So, be strong in the Lord, knowing that we will not be overcome by anything put before us, or to put it another way, "There is nothing in all creation that can separate us from the love of God in Christ Jesus." (Romans 8:39)
     One final thing, we encourage you to keep up your offerings if possible.  Obviously, the church depends on members and friends to maintain the building, support the personnel, and provide a helping hand.  Our office will be keeping some hours, and the food pantry will hand out food on Saturdays.  Your checks or cash will be counted as they come in.  So, we thank you for participating in our mutual ministry!
God Bless and keep the Faith!
Worship Service – 10am Sunday