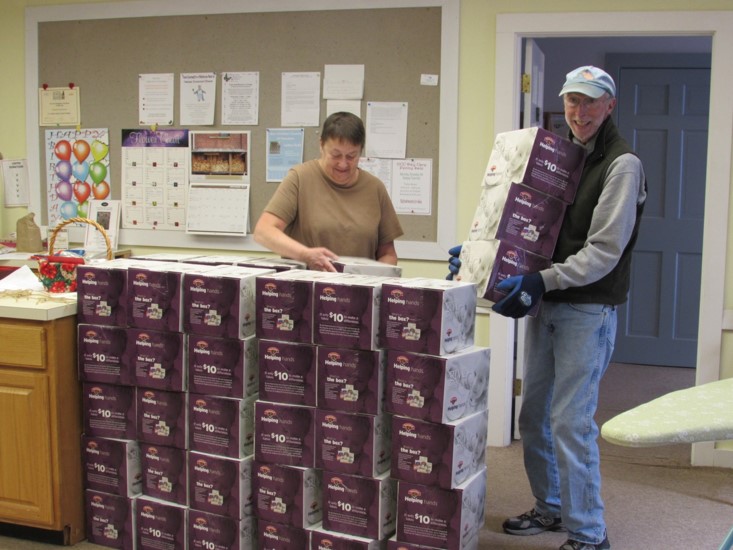 This is an important, vital ministry of the church that serves residents in need on a weekly basis. Not only does it provide food to Freedom residents, it also serves Effingham and Ossipee as well. The Pantry operates under the able leadership of Doris Sirois who is assisted by her husband Paul and a host of volunteers (coordinated by Dan Spear).
Donation boxes are placed at Abbott & Staples, Boyle's Family Market, the Effingham Public Library,  the Freedom Post Office, and Valuland Food Store. The Pantry also receives generous donations of leftover food from the many camps in the region. The church also observes Food Pantry Sundays on the first Sunday of each month.
In 2021, the Pantry served 1,192 clients with a total of 24,732 meals. In 2020, the Pantry served 1,104 clients with a total of 23,184 meals. In 2019, the Pantry served 847 families with a total of 19,467 meals.  The demographics vary month to month between adults, children and seniors, but there seems to be a steady rise from single digits to double digits with no decrease in sight.
For Thanksgiving and Christmas in 2021, the Pantry gave out vouchers for turkeys and hams, with the help of a generous contribution from Thrivent Financial.
If you would like to volunteer or make a donation, call the church office at 539-6484 or e-mail at fccf1858@gmail.com.  Monetary donations can be mailed to Freedom Food Pantry, Box 502, Freedom, NH 03836.  Food donations can be dropped off in the front church foyer 24/7.