Welcome to First Christian Church of Freedom… We're glad you're here!
---
Here's the latest!
Last Sunday we honored the First Christian Church of Freedom Ladies Guild!  They work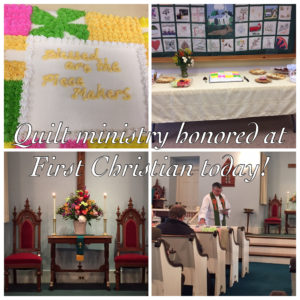 tirelessly every Monday making quilts for the babies born at Memorial Hospital and for those in Nursing Homes.  Last year 275 quilts were donated to these causes through  R.S.V.P.  We thank these 24 members for their dedication!
Greetings in the name of our Lord!
We are pleased to have you visit our website. We are hopeful that it will serve to identify us as a community of faith where we all struggle to find ourselves as disciples (followers, learners, servers) of the one God (Creator, Savior, and Nourisher). May God bless you on your journey!
Worship Service – 10am Sunday
Sunday School – 10:15am Sunday